the insistence of memory. [doppelalbum].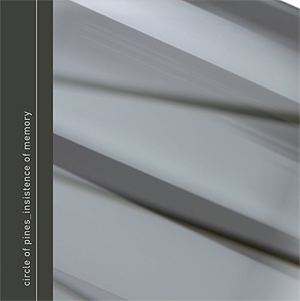 musik von circle of pines.
no.
track.
länge.
mp3.
I. disk #01.
I.
falling into the sky.
1100.
II.
dreams within echoes.
436.
III.
the smell of first light.
637.
IV.
answer & return.
1308.
V.
snowflakes falling.
722.
VI.
calling.
448.
VII.
beneath the expanse.
710.
VIII.
watching from above.
1012.
II. disk #02.
I.
the insistence of memories (longform ambient mix).
6608.

AtmoWorks is excited to bring you "The Insistence of Memory" by Circle of Pines, a collaborative effort between Nathan Larson (bunk_data, Samsa, Royal Obtuse) and Seetyca. From Nathan's blog:

"As a child, I remember standing at the window in my parent's house staring at the circular dance of snowflakes above on a November day about 30 years ago. It was cold outside, clear, fresh air with a scent of burnt wood in it... I remember watching the sky, it felt like I was falling straight into it... I was curious of what my dwelling place would look like when I finally watch it from above...
What remains of a moment in time when it is over? Why can't we remember? How does it work when you cross a street on a rainy day and you smell something or hear a special sound and then suddenly there's build up a whole world of long forgotten emotions and reflections in your head?"

The Insistence of Memory is a collaboration between Bunk Data (bunkdata.com) and Seetyca (seetyca.org) under their project name Circle of Pines. Their second release after Darkwater Pond (2006, Dark Winter) focuses on the memories of our past and experiences in our lives that continue to impact the present moments.

The first disc is a collection of perpetually recurring impressions experienced a long time ago. This illustrates how music can transport once-felt emotions through time. This concept lives of the contrast given by two different lives but shows there's something essential in each moment at the same time. The intention is that the listener can possibly re-explore this by listening to the project. The second disc contains an long-form mix of all essential moments shared between the artists while assembling the album so it best describes our state of mind while recording this release.

The eight tracks on disc one are a feast for the ears, pulling you gently along on an exploration of the deeper recesses of the mind. On disc two, you arrive at the edge of the dream state, constantly shifting from light to dark, conflict to resolution. AtmoWorks is thrilled to bring this new music to our ever-widening audience, and proud to welcome Circle of Pines to the AtmoWorks family of artists.

additional voices by mári solaris.