tomorrow will be like today [album].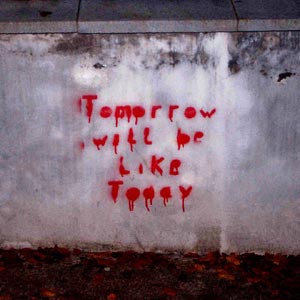 musik von der vzusdw.
no.
track.
länge.
mp3.
I.
dein schmerz wird selbst in der hölle zur legende werden.
333.
II.
ferien mit bumsmolle [;re;'s silver mix].
1827.
III.
ficken im schneidersitz.
422.
IV.
kohlenmunckpeter - seelenkraftstoff [vzu horny chuzpe transmission].
214.
V.
dauerfeuer.
347.
VI.
sozialisationsmuster [& rötzer & tellhorn aufpepp].
843.
VII.
ein arsch für ein auge.
46.
VIII.
mmw [modernes muss weichen].
415.
IX.
ferien mit bumsmolle.
508.
X.
the shamen reunion party [stupid nostalgia].
445.
XI.
trunken taken schauen.
138.
XII.
tortillatorpedo.
659.
XIII.
the reason for delay [seetyca's ambiantesquc chuzpe translation].
1221.

fast eyne ewikeyt hats gedauert, doch nun ist das zweyte album der vzusdw da. tomorrow will be like today - aufgenommen, geremixt und abgemischt von frühjahr 2003 bis herbst 2004 im vereinshaus der vzusdw und in den mbira world studios. viele kollegen arbeiteten diesmal mit. hier wieder der originaltext aus dem cover inlay:


vzusdw thanx:
boing and marv for crying on (I), etheocles stevens for ambiantising our bumsmolle (II), kohlenmunckpeter for paying less for this remix (IV), hardbeatin' eggheads rötzer & tellhorn for spiderin' around our sozialisationsmuster (VI).
mmw is an early preview of our forthcoming [ioc] projekt.
(IX) brings the original of bumsmolle - brutal and healthy at once.
with (X) the shamen reunion party a little nostalgia swings by.
on (XIII) a big kiss goes out to seetyca for producing the chuzpe mix and some of our tunes, delivering an explanation for our so-long-album-release-delay. thanx to artin mucht for producing a lot and the little brother of god for shaking our small, dirty earth regularly...
(c) & (p) by vzusdw 2003/2004.