translucence [split-album].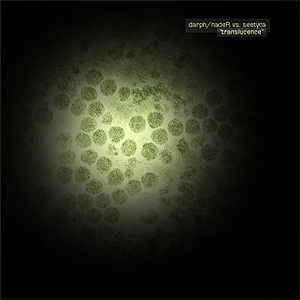 musik von seetyca & darph/nadeR.
no.
künstler.
track.
länge.
mp3.
I.
darph/nadeR.
a stolen mind.
943.
II.
seetyca.
nuance I.
1318.
III.
darph/nadeR.
as our brains boil against the wall.
947.
IV.
seetyca.
translucence.
854.
V.
darph/nadeR.
moons.
357.
VI.
seetyca.
elegance.
803.
VII.
darph/nadeR.
stop-start.
855.
VIII.
seetyca.
nuance II.
949.

translucence ist eyn split-album von seetyca und dem amerikanischen noise-projekct darph/nadeR. es ist inspiriert von der begegnung von laut und stille.

die von seetyca erdachten stücke wurden im frühjahr 2005 im mbira world studio v.03 aufgenommen - die stücke von darph/nadeR entstanden im sommer 2005.

die pressemitteilung:
...from squeals of sharpening lasers-beam points in static-storm attacks (darph/nadeR) to tranquil washes of silver-shining masses that float over the cloudlines (seetyca) and then back again, this split album takes you to all sides and then stretches you over the edges.....as both projects take their signature sounds and recreate them in crisp new forms you will be wondering why it took this team so long to get this release together....